Internet technologies have become a fertile ground for new businesses. A lot of people start building new businesses online due to the minimal capital outlay requirement and limited barrier to entry.
However, the terrifying statistics of the startups' failure rate is 98% during the first year.
Why do the startups fail?
No demand for the product - 42%

Ran out of money - 29%

Wrong team - 17%

Ignored customer's needs - 12%
Usually, the primary blocker for a successful startup is self-deceit of the entrepreneur. This behaviour is described as the Dunning-Kruger effect.
Dunning-Kruger effect
In the field of psychology, the Dunning-Kruger effect is a cognitive bias in which people with low ability at a task overestimate their ability. It is related to the cognitive bias of illusory superiority and comes from the inability of people to recognise their lack of ability.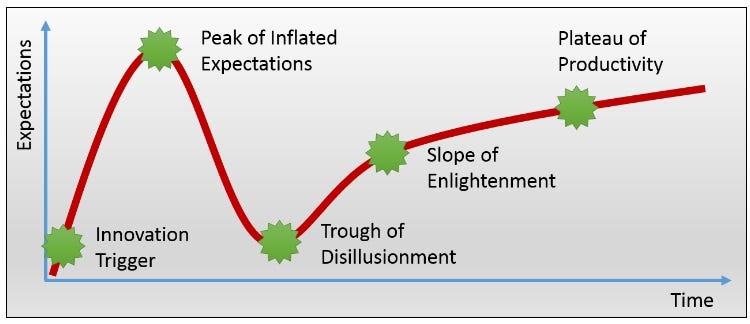 But what happens with startups?
Once an entrepreneur decides to start their own business — everything seems easy and clear. The product or service is perfectly scrutinised. The confident founder thinks that he/she knows the market and has foreseen all the risks and problems.
And then a vigorous person meets the reality and starts to understand that the perfect illusion mistaken for knowledge leads the wrong way.
After the reality finds a founder, he/she loses his confidence in an extremely rapid way. On this phase, a lot of startups fail and never get back on the track.
When the person is at the bottom of the curve, the awakening comes. The entrepreneur starts to realise his/her own incompetence and tries to overcome it.
Why is it difficult to recognise?
Everything seems so easy to understand when you look at the situation from the outside or retrospectively. Below are a few reasons why people fail to recognise their own lack of competences:
Previous positive experience

Success in a different market/vertical

Lack of experience

Copying somebody's success

The lack of self-criticism

Illusion that a leader can't fail
Conclusion
It is normal to find yourself in the Dunning-Kruger Effect trap. We need this because "Fail often so you can succeed sooner". All great leaders have been in it.
"Success is walking from failure to failure with no loss of enthusiasm."

Winston Churchill
From this perspective, don't be afraid of the Dunning-Kruger effect but be ready to defeat it.
— joubert